You may remember me gushing over Dawn Crandall's Everstone Chronicles last year. I loved the series, especially book two,
The Bound Heart
, but as they were released in ebook format only, they were inaccessible to many readers. Not anymore! Whitaker House has decided to release all three books in paperback, beginning with
The Hesitant Heiress
.
In celebration, Dawn is giving away multiple copies of
The Hesitant Heiress
! Enter both giveaways below:
a Rafflecopter giveaway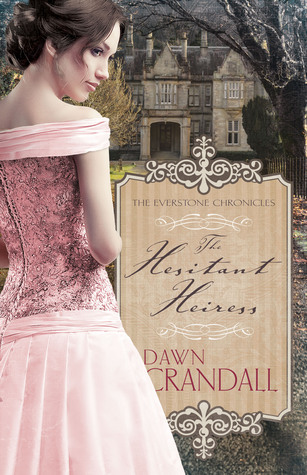 Enter Giveaway
Buy the book.
Read my reviews of the series:
The Hesitant Heiress
(4 stars),
The Bound Heart
(5 stars),
The Captive Imposter
(4 stars).
---
A graduate of Taylor University with a degree in Christian Education, and a former bookseller at Barnes & Noble, Dawn Crandall didn't begin writing until her husband found out about her long-buried dream of writing a book. Without a doubt about someday becoming traditionally published, he encouraged her to quit her job in 2010 in order to focus on writing her debut novel,
The Hesitant Heiress
. It didn't take her long to realize that writing books was what she was made to do. Dawn is represented by Joyce Hart of Hartline Literary.
Disclosure of Material Connection: Some of the links in the post above are "affiliate links." This means if you click on the link and purchase an item, I will receive an affiliate commission. I am disclosing this in accordance with the Federal Trade Commission's 16 CFR, Part 255: "Guides Concerning the Use of Endorsements and Testimonials in Advertising."