Welcome to my stop on the Searching for Sarah blog tour! Not only is there a giveaway that you'll want to enter, but I'm also giving you a glimpse of the book through an excerpt!
---
Searching for Sarah
(
The Sarah Series
#1)
Julieann Dove
Adult Contemporary Romance
Paperback & ebook, 333 pages
April 27th 2017
The first in a three book series called Searching for Sarah. Come meet Sarah and begin her journey....
Sarah Keller is convinced that her Mr. Right is stuck in traffic…in another country…on another planet. 'Thirty-one and still single' isn't how she wants to be introduced by her dad. That's why she's on five dating websites, posing as anything from an avid gardener to a crazed thrill seeker.
Sam Turner is a single dad, workaholic, who owns his own company. Long-term relationships have never worked out for him. That's why he needs a nanny.
When a mutual friend suggests Sarah take the job temporarily, everything changes for them both. Sarah begins falling for the man who meets almost none of her online criteria. And when strange things start happening—things that jeopardize the safety of Sarah, Sam is the last person she would imagine is hiding something.
Goodreads│Amazon│Barnes & Noble
---

Now for the excerpt! Let me set it up for you just a bit. About to be evicted, Sarah is desperate to find a new place to live. Robena, a "crazy cat lady" from Sarah's knitting club, offers a room in her home, but then another woman from the club offers a better solution: Sarah could become a temporary nanny for Sam, a wealthy single father. The excerpt picks up as Sarah is meeting Sam for the first time.
I looked at the imposing house and took a deep breath. I felt as if I were going on a job interview. It sort of was, I guess. However, this was a little more serious. If Sam Turner didn't like me well enough to live in his house and pick up his daughter from preschool, I'd be looking for the nearest bridge to live under. Or I'd make nice and live the next two months in Robena's room with catnip in my pockets.
I walked up the stairs on the left. There were two sets I could choose from that flanked the front door. A Charleston classic in architecture. I wasn't sure what profession Mr. Turner was in, but by the looks of his home and location of it, it must be worthwhile. Geraniums, the color of pink cotton candy, sprung up from two ginormous planters by the front door, and the oversized ferns that dangled over the porch railings reminded me of my very bad hair days—wiry and wild. Either he was a green thumb enthusiast or a gardener lurked around the backyard with Miracle-Gro strapped to his back.
I struck the door with the brass pineapple door knocker, and looked around suspiciously. The sound echoed in the quiet street. I noticed the man with his dog had disappeared. Suddenly, the sprinkler system turned on and the ticking of spurting water began glistening on the blades of grass. What I wouldn't give to be able to go and lie down in it. The day had been super hot—even the asphalt hissed. I jumped when the door finally opened. He was nothing like I expected. What did I expect?
"Hello, I'm Sarah." I offered my hand, realizing too late that it was the one holding the country bunny. "Sorry." I tucked the animal under my arm and offered my hand again.
He grabbed hold; his large, warm hand, covered mine almost wholly. I looked into his eyes for a quick reading of his soul. So much can be said in the first fifteen seconds of meeting someone. Was he kindred, average, or empty?
"I'm Sam. Nice to meet you. Won't you come in?" His grip eased, and his hand slid from mine as he
moved aside and ushered me in, looking at my basket of flowers.

I stepped over the threshold, feeling as though I'd just walked into a life-sized refrigerator. Cooler air filled the large room, up to the expansive ceilings and ornate crown molding. They must've been twelve feet high. I only remarked this in my brain because the guy I dated before Rob was into architecture. We spent weekends driving and touring old homes of the South. Let me see, why did that relationship end?
"Would you like a drink?" Sam walked toward a small bar in the room to the right of the foyer. He turned to hear my answer, fumbling with the top button of his dress shirt. "Are the flowers for me?"
---
Julieann Dove lives in Virginia, yet longs to live everywhere else. It doesn't come as a surprise that along with her gypsy soul, comes an active imagination. That's why she loves to write and invent worlds and people, so that she can formulate their happily ever after. Hobbies include cooking new recipes, sewing, and spending time with her cute boyfriend/husband and five fabulous children. Vacations happen in Nantucket or the Carolina beaches—anywhere there is inspiration for her next book. One day she hopes to travel to Italy, drive one of those little cars around the countryside, and speak the language fluently!
Other Books by the Author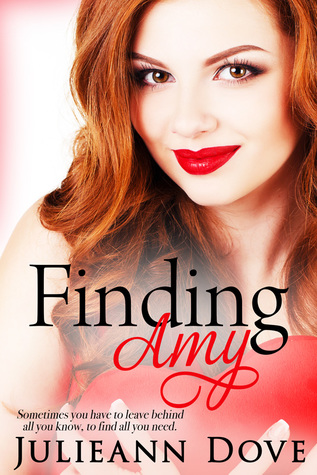 Tour Schedule
Tour Giveaway
- 1 winner will receive a signed copy of Waking Amy (US only)
- 1 winner will receive an ebook of Waking Amy (open internationally)
- Ends May 9th
Disclosure of Material Connection: I received this book free through Prism Book Tours. I was not required to write a positive review. The opinions I have expressed are my own. I am disclosing this in accordance with the Federal Trade Commission's 16 CFR, Part 255: "Guides Concerning the Use of Endorsements and Testimonials in Advertising."